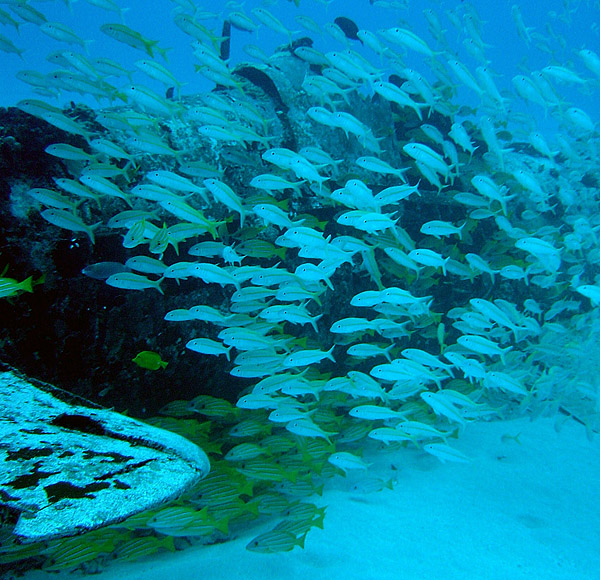 Intermediate – Advanced
The Corsair is a rare natural wreck. This Navy Gull Wing Corsair Fighter (F4U-1A) settled to the bottom in 107 feet of water when Lieutenant Holden made a "dead stick landing" in 1945 on a training mission. He was rescued, but left behind an intact Corsair Fighter with the canopy open, the instruments and gull-wing are still clearly visible.
The Corsair Fighter was one of the most powerful and unique fighter planes of the Second World War. It was developed by the Chance Vought Corporation during the late 1930's. The inverted gull wings and abnormally large propeller put the Corsair in the record books as the first U.S. war plane to exceed 400 mph.
The Corsair might well be the most famous of Oahu's wrecks. It is small but definitely worth a visit because good airplane wrecks are rare!  It sits on a white sand bottom and the visibility is usually 100 feet or more. This makes for some great photo opportunities. Your max depth will be below 100 feet, so the bottom time is limited to about 15 minutes.  This is just about the right amount of time to explore the wreck and the garden eels that are all around the plane.